Water Damage and Mold Removal Gulfport
You can't always predict when water damage will strike. But you can always count on 911 Restoration of South Mississippi.
We provide 24/7 water damage restoration in Gulfport and the surrounding area. Whether it's a midnight pipe burst or a holiday hurricane, we're there for you in 45 minutes or less, guaranteed. 911 Restoration is licensed, insured, bonded, and staffed with IICRC certified flood cleanup experts. Our water damage restoration technicians do everything it takes to give you and your property a Fresh Start.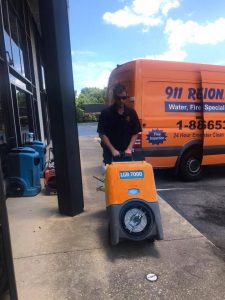 In fact, we're more than a water clean up service. We're a full restoration contractor, providing every service needed to make your home or business new again. Our technicians handle structural repairs, mold inspection, and mold remediation. They don't leave until they know your property is strong, clean, and protected against long-term damage.
We realize the cost of flood damage is a major worry after a pipe burst or any other water disaster. We believe it's our responsibility as your water damage restoration provider to offer peace of mind in addition to flood cleanup. We do all we can to make recovery affordable. Our crew works at top speed to minimize damage. We work with you to keep costs low. We also take all types of insurance and provide a free insurance consultation. A staff member reviews your policy and explains which services are covered, from sewage extraction to mold removal. You even receive help with loss itemization, and we file your claim for you.

You don't have to recover from today's disaster alone. For mold decontamination and emergency flood cleanup in Gulfport, call the company that puts you first. Call 911 Restoration of South Mississippi.
Residential and Commercial Water Extraction Company
As a locally owned and operated company, we take care of the community we love. Gulfport is a beautiful city, celebrated for charming homes and stunning luxury resorts. We believe preserving our community means providing excellent service to all local properties. It doesn't matter if you own a home or a casino, our technicians are trained to care for your unique property.
Our water damage restoration crew handles all water-related disasters. Turn to them after a pipe burst, hurricane, storm damage, sewage backup, or any other water incident. Our phone lines are open 24 hours a day, every single day of the week. That includes weekends and holidays.
When the flood cleanup workers arrive at your property, they provide a free visual assessment for property owners. Once they've answered your questions, they launch into action. The water damage restoration technicians pack out and store any items that could be harmed during cleanup. Then, they extract the water and bring in fans to dry and dehumidify the area. They sanitize the space as needed to prevent disease-causing bacteria from invading your home or business.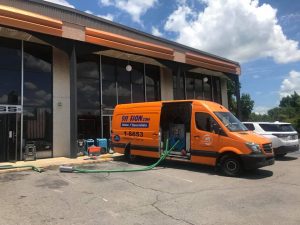 Even with swift action, it is possible for your pipe burst to cause lasting structural damage. With this in mind, our staff conducts a water damage inspection and mold inspection. If they discover weakness, rotting, or contamination, they handle repairs and mold removal personally. Your dedicated flood cleanup crew is highly skilled in all property repairs. Whether you require roof repair, drywall replacement, or carpet removal, they've got it covered.
Our ultimate goal is to make your recovery from water damage complete and painless. For the best water damage restoration service available, call 911 Restoration of South Mississippi.
Full-Service Mold Remediation in Gulfport
Mold development isn't just common after water damage; it's common in Gulfport period. With moisture in the air and hot, muggy summers, most local properties require mold remediation sooner or later. And once you have an infestation, you should call for assistance from a certified mold expert right away.
Resist the impulse to attempt mold removal yourself. Household cleaners are not effective. Even if you succeed in eliminating visible mold, you haven't addressed the root of the problem. This means a repeat infestation is almost inevitable.
Our mold remediation crew goes above and beyond to make sure they discover and kill every patch of growth. They do this first by providing a complete mold inspection. They examine every hidden nook where mold tends to thrive. Without a mold inspection, you may be cleaning a patch of visible fungus while neglecting its offspring hidden inside your walls.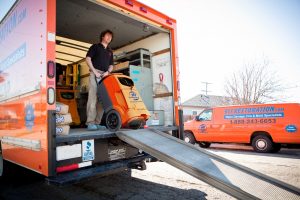 We also provide structural dehumidifying as a necessary element of mold removal. Mold spores will always find their way onto your property through the air and on clothing. If the structure where you last infestation grew is still damp, new mold spores are bound to land on that surface and create a new colony. You're doomed to repeat the mold remediation process all over again. Dehumidifying prevents this issue.
If you have an infestation, contact the mold removal experts at 911 Restoration today. It's better for your pocketbook and your peace of mind.
Servicing the cities of Bay Saint Louis, Beaumont, Biloxi, Brooklyn, Carriere, Diamondhead, Diberville, Ellisville, Gautier, Gulfport, Hattiesburg, Kiln, Laurel, Leakesville, Long Beach, Lucedale, Lumberton, Mc Henry, Mc Iain, Moselle, Moss Point, Neely, New Augusta, Ocean Springs, Ovett, Pascagoula, Pass Christian, Pearlington, Perkinston, Petal, Picayune, Poplarville, Purvis, Richton, Saucier, Seminary, Sumrall, Vancleave, Wiggins, and surrounding areas.