Water Damage and Mold Removal in Biloxi
There's no place quite like Biloxi, Mississippi. From casino nightlife to the natural beauty of Deer Island, this community has something for everybody. Unfortunately, living and working here isn't always a breeze. Between rain, snow, and hurricanes, there's no telling when your home or business will be struck with water damage.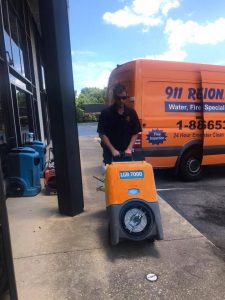 The good news is that 911 Restoration of South Mississippi is here for you in any disaster. Our IICRC certified crew provides 24/7 water damage restoration in Biloxi and the surrounding area. Even if you experience a pipe burst at 2 a.m. on Christmas Day, you can expect help to arrive in 45 minutes or less.
Our flood cleanup technicians have completed extensive training in every aspect of water damage restoration. They do much more than basic water clean up service. These experts handle property repairs, mold inspection, and mold removal. It doesn't matter how severe that pipe burst was or how much wreckage that hurricane caused. When you call 911 Restoration, you don't have to find another contractor for roof repairs or structural restoration. We do it all.
We ensure swift, comprehensive service because we care about your peace of mind. We know the worry that wells up as you watch a pipe burst flood your property. Our goal is to make the process of water damage restoration easier for you, starting with the cost. Not only does our team work quickly to minimize damage and expenses, but we work with all insurance providers to make sure you can use our services. We also offer a free insurance consultation so you go into flood cleanup with clear eyes. A team member reviews your policy with you, explaining which costs are covered by your provider. 
It can be devastating to see your home or business destroyed by water. Rest assured, you're not in this alone. For the best flood cleanup and mold remediation in Biloxi, call 911 Restoration of South Mississippi today.
Speedy Water Damage Repair
Too many property owners know the feeling of discovering a pipe burst or sewage backup in the middle of the night. You feel frozen, overwhelmed, and alone. But you're not. 911 Restoration of South Mississippi is always one call away, no matter what time it is.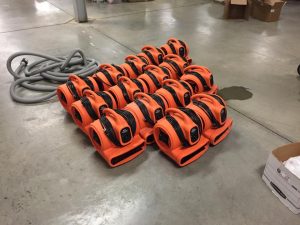 We know water damage doesn't stick to regular business hours, so we don't either. We're open 24/7/365, and when your call comes in, our flood cleanup crew is on the scene in 45 minutes or less. They snap into action with any emergency service you need. They handle boarding up, storm repair, roof repair, sewage removal, leak detection, water extraction, and much more. They even pack out and store your at-risk belongings so you don't lose any precious items during cleanup.
After they've removed all the water using wet vacuums, the water damage restoration technicians dry your property. They dehumidify the structure to prevent rotting and warping. This is where many other water removal companies leave off. But we believe our responsibility to you extends well beyond basic water clean up service.
We want to turn your water damage disaster into an opportunity to rebuild better than before. Your dedicated water damage restoration crew takes on every repair necessary to restore your property to its former glory. Whether that means roof replacement, drywall repair, or tearing out your old floorboards, they're on it. They also conduct a mold inspection and take care of mold remediation themselves.
If you need flood cleanup in Biloxi, don't settle for basic water removal. Choose a Fresh Start. Call 911 Restoration of South Mississippi today.
Comprehensive Mold Inspection in Biloxi
We believe a water damage inspection should always include mold inspection.
Mold spores are constantly in the air around you, and they only need 24 hours on a damp surface to start a new colony. This is why mold is such a common consequence of water damage. It's also why our water damage restoration experts are trained and certified in mold removal.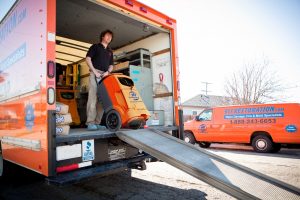 Our mold remediation crew follows your water damage event with a comprehensive mold inspection. They search for mold in your walls, in your pipes, and on sheetrock. They know all the places where mold hides and thrives.
Once they discover every colony, they communicate with you about their strategy for safe mold removal. Their mold remediation techniques are highly effective and prevent the spread of excess spores and mycotoxins. After mold removal, they dehumidify the structure to prevent a repeat infestation.
If you suspect there is mold in your home or business, call our mold decontamination experts right away. Fungus may seem relatively harmless, but it can cause costly damage in the long run. The longer you wait on mold removal, the more time the infestation has to eat away at the structure of your home. Mold remediation is also important for avoiding the health risks associated with an infestation.
Don't let mold decontamination fall to the bottom of your to-do list. Call 911 Restoration of South Mississippi and breathe easy again.
Servicing the cities of Bay Saint Louis, Beaumont, Biloxi, Brooklyn, Carriere, Diamondhead, Diberville, Ellisville, Gautier, Gulfport, Hattiesburg, Kiln, Laurel, Leakesville, Long Beach, Lucedale, Lumberton, Mc Henry, Mc Iain, Moselle, Moss Point, Neely, New Augusta, Ocean Springs, Ovett, Pascagoula, Pass Christian, Pearlington, Perkinston, Petal, Picayune, Poplarville, Purvis, Richton, Saucier, Seminary, Sumrall, Vancleave, Wiggins, and surrounding areas.