Disaster Restoration in South Mississippi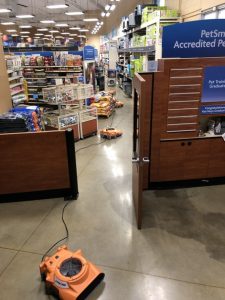 You don't have to try to recover from a disaster in Hattiesburg and surrounding areas on your own. 911 Restoration of South Mississippi offers professional assistance with commercial and residential repairs. Our IICRC-certified property restoration techs are on-call 24/7/365. Get a Fresh Start by contacting us for:
Help within 45 minutes of an emergency call
Support from licensed, bonded, and insured technicians
Experienced service from techs who put you first
Property restoration experts at 911 Restoration of South Mississippi have the training to resources to assist with:
Water damage restoration following a hurricane or flood
Fire damage restoration along with smoke, ash, and soot removal
Sewage cleanup after you experience a pipe burst or toilet overflow
Mold remediation if you have a fungal infestation
We understand how important it is to move quickly after you experience a property disaster in Hattiesburg, Laurel or any surrounding cities. Crews can reach your property in under an hour to provide you with water damage restoration, fire damage restoration, or mold removal services when you need them most.
Allow us to assess your needs by performing a property damage inspection. Crews look for signs of structural damage, locate all areas with moisture, and check for evidence of mold. We then formulate a personalized property restoration plan to ensure your home or business is returned to perfect condition. Get back your peace of mind following a property disaster by contacting us right now.
When Do You Need Water Damage Restoration in South Mississippi?
It's important that you get help as quickly as possible following a water damage disaster in Laurel. Water continues to cause damage until it is removed from your property. Additionally, allowing water to remain in your property for an extended period of time increases the odds that mold will grow.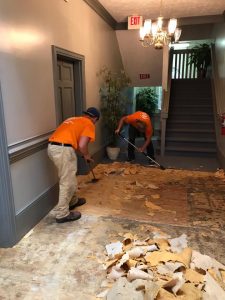 Get same-day help with flood cleanup and water extraction from 911 Restoration of South Mississippi. We are ready to provide you with:
Emergency water extraction
Emergency boarding up
Emergency roof repairs
South Mississippi water damage restoration techs work quickly if your property was damaged by a hurricane, tornado, or flood. Crews also spring into action if you are facing a man-made disaster. A pipe burst or sewage backup can have disastrous consequences for your business or home.
Fortunately, we have the training and experience to take care of sewage cleanup and plumbing repairs. Water damage repair crews even check for signs of mold as they renovate and restore properties throughout South Mississippi. Mold grows fast after water damage events. Techs can:
Complete a free visual mold inspection to property owners only
Set up plastic sheeting to isolate areas with mold growth
Eradicate mold spores using air filters
Scrub down all areas of your property with mold growth
Handle comprehensive mold decontamination
Get professional help with mold removal and water damage restoration in Hattiesburg. Reach out to the experts at 911 Restoration of South Mississippi to ensure all signs of property damage are erased Move forward with peace of mind by allowing us to handle flood cleanup and mold remediation.
Can Professionals Help with Fire Damage in South Mississippi?
Water damage emergencies are not the only disasters faced by property owners in South Mississippi. You might also require professional help if your property experiences fire damage. Fire hits both residential and commercial properties in the areas around Laurel. A fire can:
Cause structural damage to your property
Leave behind unwanted ash, soot, and smoke
Result in water damage from fire hoses and sprinklers
End up encouraging mold growth in your home or business
Fires often leave your property open to the elements, which can result in additional damage. Fortunately, fire damage restoration experts at 911 Restoration of South Mississippi can take care of emergency roof repairs and boarding up.
You can even turn to us for help with your insurance company following a fire, floor, or mold outbreak. Our water damage restoration techs are used to working with all insurance companies around Lucedale. We can advise you when it comes time to file your claim. Techs even help you prepare an itemization of your destroyed or lost possessions.
Our IICRC-certified technicians at 911 Restoration of South Mississippi are ready 24/7/365 to provide professional mold removal, cleaning and disaster restoration services.
Get help handling all aspects of property restoration after a disaster. Recover from a hurricane, fire, or fungal outbreak in Laurel, Hattiesburg, Lucedale or any other surrounding cities. Take charge of your future and return your property to perfect condition by contacting 911 Restoration of South Mississippi now. We are available 24/7/365, so call us right now.
Serving the communities of Biloxi, Ellisville, Gautier, Gulfport, Hattiesburg, Kiln, Laurel, Leakesville, Long Beach, Pascagoula, Lucedale, Lumberton, Mc Henry, Mc lain, Ocean Springs and surrounding area.