Sewage Cleanup in South Mississippi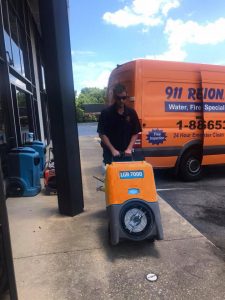 You don't have to handle a sewage backup in South Mississippi on your own. We provide a Fresh Start if you need help with sewage water cleanup. Techs can:
Reach your property within 45 minutes of an emergency call
Perform a sewage water damage inspection
Stop additional sewage from entering your property
Pump out and remove sewage
Disinfect and scrub down all surfaces exposed to sewage
Get rid of odors and bring your property back to perfect condition
Erase all signs of toilet water damage by reaching out to 911 Restoration of South Mississippi immediately after a sewage backup. We're on-call around the clock, so you don't have to wait for business hours to begin sewage cleanup in Hattiesburg.
South Mississippi sewage water cleanup techs can also check your property for signs of mold growth after a sewage backup. Mold grows quickly in damp environments. Let us perform a mold inspection to determine if you need mold removal services.
911 Restoration of South Mississippi is full-service mold remediation and water cleanup company. Techs are licensed, bonded, and insured to fully renovate your home or business after a sewage water backup in Lucedale. You can rely on us to handle b and residential sewage cleanup. No job is too big or too small for us, so call us today.
Are There Risks to South Mississippi Sewage Water Cleanup?
Sewage cleanup in South Mississippi requires professional assistance. The experts classify sewage as black water, or water contaminated by exposure to human waste. Sewage contains bacteria and other dangerous pathogens that cause health issues upon exposure. For this reason, South Mississippi sewage cleanup techs must wear protective gear.
The sewage restoration experts at 911 Restoration of South Mississippi have personalized protective gear (PPG) to handle sewage backups in Hattiesburg. Techs also have:
Professional-grade pumps to remove sewage
The training to safely dispose of raw sewage
Experience decontaminating properties with sewage water damage in South Mississippi
A South Mississippi sewage backup can be wiped away quickly. Speak with us today if you have toilet water damage on your property. Crews get rid of sewage, disinfect your property, and check for signs of mold. If we spot a fungal infestation, techs can:
Use plastic sheeting to isolate areas with mold
Remove mold spores using air filters
Handle total mold decontamination
Perform a final mold inspection to make sure all fungus is removed
911 Restoration of South Mississippi brings properties back to perfect condition after a sewage backup in Hattiesburg. Crews have the experience and the training to repair sewage water damage, fix aesthetic damage, and remove odors quickly.
Make sure you get back your peace of mind after a sewage water backup in South Mississippi. Contact us whenever you need help and sewage water cleanup techs can reach your property in under an hour to begin working in Hattiesburg, Laurel or any surrounding cities.
What Causes Sewage Backups in South Mississippi?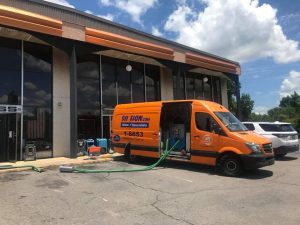 South Mississippi sewage backups occur for a number of reasons. Many sewage water backups are a result of:
Clogs in the pipes from grease poured down a sink
Clogs from roots growing into sewage pipes
Sewage system backups caused by heavy rains
Properly disposing of grease reduces the odds that you'll experience a sewage water backup in Lucedale. While this substance appears liquid when you first pour it down the drain, it hardens into a solid state as it cools. Grease can completely block a sewage line in some situations.
Roots commonly block older, clay sewage pipes in Lucedale. They grow directly into the side of the pipe, eventually giving sewage nowhere to go but back into your property. Once this occurs, you need to reach out to a sewage water cleanup company right away.
Finally, sometimes the sewage systems in Hattiesburg and surrounding areas cannot handle the amount of rain they receive. This can be a very severe problem during hurricane season. Heavy rains overwhelm the system, forcing water back through the pipes, and resulting in sewage water backups.
Fortunately, a sewage water cleanup company in South Mississippi can return your property to perfect condition. 911 Restoration of South Mississippi understands what it takes to repair toilet water damage. Let us handle sewage restoration for your home or business right now. You can get a Fresh Start if you experienced Sewage or water damage in Hattiesburg, Laurel, Lucedale or any surrounding areas.
Get professional help today by contacting IICRC-certified sewage cleanup techs. We also provide fire damage, mold removal, and disaster restoration services as well in the surrounding areas.
Serving the communities of Biloxi, Ellisville, Gautier, Gulfport, Hattiesburg, Kiln, Laurel, Leakesville, Long Beach, Pascagoula, Lucedale, Lumberton, Mc Henry, Mc lain, Ocean Springs and surrounding area.