Water Damage and Mold Removal in Laurel
You've given so much to make your home or business beautiful. It's devastating when your beloved property is struck by a pipe burst or sewage backup. Water damage destroys all that hard work. Sometimes it feels like your property will never be the same. We promise you: it will.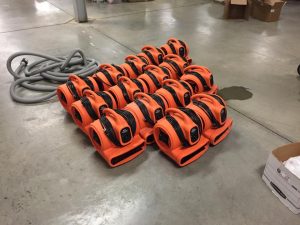 911 Restoration of South Mississippi provides water damage restoration and mold removal in Laurel and the surrounding area. Our expert technicians have undergone extensive training in all areas of property restoration. We're more than a water extraction company. We repair the damage, conduct a mold inspection, handle mold remediation, and leave you with a property that feels brand new.
We adhere to the highest standards in flood cleanup and mold decontamination. Every member of staff is IICRC certified. 911 Restoration is licensed, insured, and bonded. We are locally owned and operated, which means we consider you a valued member of our community.
You see this neighborly spirit in the compassionate service our flood cleanup techs provide. Our first and greatest goal is to give you peace of mind. That's why we're on call for you 24 hours a day, every day of the year. We guarantee an arrival time of 45 minutes or less. We know what it's like to be left waiting and worrying as water fills your property. We believe you deserve better.
Many property owners also worry about the cost of flood damage repair. We work with all insurance providers to make our service is affordable for every member of the community. Water damage restoration is often a multi-step process. It isn't always clear which services are covered under your policy. That's why we offer a free insurance consultation. We review your coverage and explain which expenses are covered, from sewage removal to drywall replacement to mold removal.
At 911 Restoration of South Mississippi, you come first. Whether you're reeling from a hurricane or recovering from a pipe burst, let us be the first and only call you make.
Fresh Start Water Damage Restoration in Laurel
Our IICRC flood cleanup and mold removal technicians live and work by the Fresh Start philosophy. They believe a disaster is an opportunity to rebuild, better than before. Other water removal companies may simply clean up the water and leave. But our water damage restoration crew turns your pipe burst into a new beginning.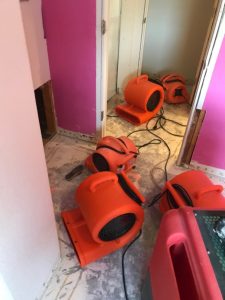 When the workers arrive at your home or business, they assess the damage and set to work cleaning and drying your property. They pack out and store items at risk of damage during water damage restoration. Then, they proceed with emergency services such as boarding up, storm repair, roof repair, and water extraction. Using professional fans, they dry out the structure to its core.
Our flood cleanup crew performs all these tasks with urgency, hoping to avoid structural damage and mold contamination. Unfortunately, some water damage incidents are so extensive that damage is inevitable. We train our water damage restoration experts to handle any repairs you might need. You never have to call another contractor to make your property strong again. Our team even handles mold inspections and mold decontamination.
Whether it's storm damage or a pipe burst, a brand new business property or a historic home, you'll find the best service at 911 Restoration. Make us your first choice for mold remediation and flood cleanup in Laurel and beyond.
Laurel's Number One Mold Experts
If you've got mold, you've got a problem.
Mold contamination can be easy to ignore, especially if the colony is out of sight. But the longer you put off mold remediation, the bigger the infestation grows. Over time, the fungus eats away at the surfaces of your property. Not to mention, most varieties of mold contaminate the air you breathe with mycotoxins or other dangerous particles.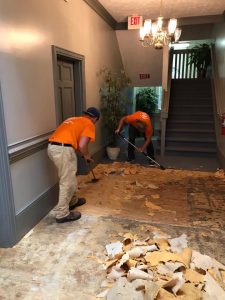 Because fungus carries such high risks, it's important to choose a certified mold removal specialist for decontamination. Our mold remediation workers are IICRC certified and use the safest and most effective techniques. They conduct a full mold inspection to ensure they eliminate every growth. After mold inspection, they kill mold using professional tools, careful to avoid spreading spores and mycotoxins.
In every service we provide, we focus on strengthening your property for the future, not just getting through the present crisis. With this goal in mind, our mold decontamination crew dehumidifies the structure of your home or business. This important step makes your property inhospitable to mold spores. That way, you're less vulnerable to a repeat infestation, saving you from additional mold remediation costs down the line.
No matter what disaster you're facing, you have a neighbor and an ally in 911 Restoration of South Mississippi. Call now for caring, expert service.
Servicing the cities of Bay Saint Louis, Beaumont, Biloxi, Brooklyn, Carriere, Diamondhead, Diberville, Ellisville, Gautier, Gulfport, Hattiesburg, Kiln, Laurel, Leakesville, Long Beach, Lucedale, Lumberton, Mc Henry, Mc Iain, Moselle, Moss Point, Neely, New Augusta, Ocean Springs, Ovett, Pascagoula, Pass Christian, Pearlington, Perkinston, Petal, Picayune, Poplarville, Purvis, Richton, Saucier, Seminary, Sumrall, Vancleave, Wiggins, and surrounding areas.