Commercial Restoration in South Mississippi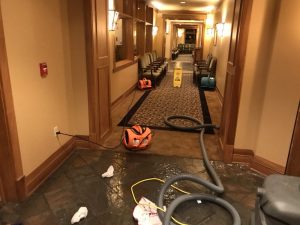 Do you need a Fresh Start after experiencing commercial property damage in Hattiesburg, Laurel or any surrounding areas? 911 Restoration of South Mississippi can help you recover from a flood, fire, pipe burst, or mold outbreak. Crews are on-call 24/7/365 to begin the restoration process. Crews race out to your property within 45 minutes to handle:
Commercial Water Damage. Our South Mississippi water damage restoration techs are licensed, bonded, and insured to help you. We know what it takes to renovate properties damaged by hurricanes, floods, sewage backups, and pipe bursts. 
Commercial Fire Damage. Fires rage through businesses in Lucedale on a regular basis. Fires cause massive amounts of damage. They even impact the structure of commercial properties. Fortunately, fire damage restoration techs can take charge and repair your property.
Commercial Mold Outbreaks. Mold grows fast in areas that are dark and damp. If you spot signs of a fungal infestation in your commercial property, you can contact 911 Restoration of South Mississippi. Let us begin mold removal in Hattiesburg right now.
Fire damage and water damage restoration techs have the experience and training to return your commercial property to perfect condition. We won't consider the job done until all signs of a property disaster are completely erased.
Techs offer same-day services with water extraction, fire cleanup, and mold decontamination. Find out more about how we can help by contacting us for a property damage inspection today.
What Should You Look for in a Water Damage Restoration Company?
Picking the right company to handle commercial water damage restoration can ensure the job is completed quickly and correctly. Make sure that you select a company that has techs who are:
Licensed, bonded, and insured
Certified by the IICRC
Trained to handle commercial restoration
Armed with years of experience
Supported by the resources to fully renovate your property
Dedicated to putting your needs first
911 Restoration of South Mississippi knows what it takes to handle commercial property repairs throughout Lucedale. You can reach out to us if you experienced a sewage backup in your business. Crews can take care of flooding quickly and effectively. We can:
Pump out water from your property
Pack out and store your undamaged inventory
Set up dehumidifiers to dry your business
Repair damage caused by unwanted water
Remove odors and check for signs of mold growth
Damp environments encourage the growth of mold in businesses throughout Gulfport. Fortunately, 911 Restoration of South Mississippi handles commercial mold remediation. You can rely on us to:
Quarantine areas with mold growth
Look for mold in hard-to-reach places
Set up air filters to get rid of mold spores
Complete full mold decontamination
Erase all evidence of a mold outbreak in your property by contacting us. Mold continues to spread until it is removed, so don't wait to get help. Reduce the total damage to your property by working with mold removal experts in Hattiesburg. Getting help right away can even lower the total costs for water damage restoration and mold decontamination.
How Do You Handle Commercial Fire Damage in South Mississippi?
Commercial properties face more than just water damage in Laurel. You may also discover fire damage to your business. Some businesses, like restaurants, are at an especially high risk of experiencing a fire in our area.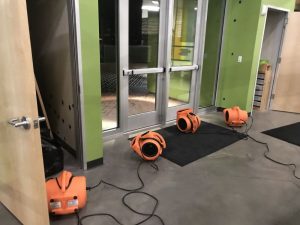 You can get help with commercial fire damage restoration by contacting 911 Restoration of South Mississippi. Our fire cleanup specialists are ready to:
Complete a free fire damage assessment
Offer you a free insurance consultation
Provide you with access to a fire information center
Handle odor, ash, soot, and smoke removal
Use sodablasting to cleanup fire damage
Help with listing your lost items and inventory
Reconstruct and renovate your commercial property
Also, our team has the best quality advanced equipments to handle water damage. Let us take care of water damage restoration in South Mississippi if you experienced water damage caused by fire hoses or sprinklers. You can even rely on us to look for signs of mold after a fire with a mold inspection.
Let us handle commercial mold remediation, water cleanup, and fire damage restoration in Hattiesbur. Crews work around your schedule to ensure your business is operational again as quickly as possible. We can even pack out and store your inventory as crews complete the restoration process.
Our IICRC-certified technicians at 911 Restoration of South Mississippi are ready 24/7/365 to provide professional mold removal, cleaning, and Sanitization services.
Get the dedicated support you need in Hattiesburg after a fire, flood, pipe burst, or mold infestation. Return your commercial property to perfect condition and allow us to offer you a Fresh Start.
Serving the communities of Biloxi, Ellisville, Gautier, Gulfport, Hattiesburg, Kiln, Laurel, Leakesville, Long Beach, Pascagoula, Lucedale, Lumberton, Mc Henry, Mc lain, Ocean Springs and surrounding area.