Water Damage and Mold Removal in Ocean Springs
The charm of Ocean Springs is undeniable. Unfortunately, so is the unpredictability of our local climate. The properties that make our community beautiful are constantly at risk of water damage. Frigid winters lead to frozen pipe bursts. Storms flood houses and cause sewage backups in businesses. Add tornadoes and hurricanes to the mix, and water damage is inescapable.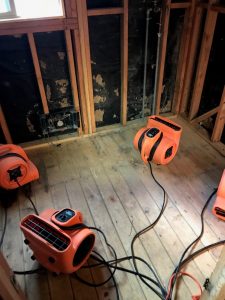 Fortunately, if you need emergency water damage restoration in Ocean Springs, help is only one call away. Our flood cleanup technicians are at your service 24 hours a day, every day of the year. Whether you call at 2:00 a.m. or 2:00 p.m., our crew is at your door in 45 minutes or less, guaranteed.
At 911 Restoration, we believe in providing our customers with a Fresh Start. We're not just a water extraction company; we're your full-service restoration contractor. Our IICRC certified water damage restoration workers are highly skilled in all areas of property repair. They even perform mold inspections and mold removal. 
When you're reeling from a pipe burst or weather-related water damage, the thought of tackling insurance paperwork is overwhelming. It is often unclear which flood cleanup services your policy covers. We provide a free insurance consultation so you don't have to face this burden alone. An expert on staff explains whether your provider pays for water extraction, carpet replacement, mold removal, and other services. They help with inventory and loss itemization. They even file your claim for you and bill your provider directly so you're not stuck playing the middleman.
Your peace of mind is our number one focus. For reliable, compassionate flood cleanup in Ocean Springs, call 911 Restoration of South Mississippi.
Speedy Water Damage Repair
When a pipe bursts on your property, there is no time to waste. Water seeps quickly into the structure of your home or business. Without immediate flood cleanup, standing water leads to rotting, warping, and even mold development. Call 911 Restoration of South Mississippi right away. Our water damage restoration technicians arrive in less than 45 minutes, guaranteed.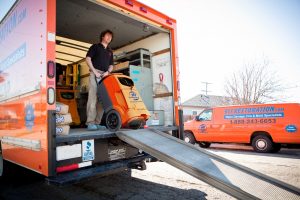 Our flood cleanup crew first provides a free visual assessment for property owners. They explain the extent of your damage and their strategy for minimizing destruction. The technicians then work urgently to get the water off your property. Emergency services include boarding up, roof repair, storm repair, water extraction, sewage removal, leak detection, and much more. 
Even once they've removed water, the threat of damage remains. The structure of your home or business absorbs water, and that stored water can cause long term problems. To prevent future damage, the water damage restoration crew dehumidifies the structure using professional fans. 
Before they leave your property, our experts want to know your home or business is truly safe. They perform a water damage inspection, checking for any weakness or rotting. If they discover an issue, they handle the necessary repairs personally. They also conduct a mold inspection. Mold is a common consequence of pipe bursts, floods, and other forms of water damage. We don't believe water damage restoration is truly complete until our techs have performed a mold inspection and any needed mold removal.
No matter what you've been through, you know you're in good hands with 911 Restoration of South Mississippi. Call now for emergency flood cleanup in Ocean Springs and beyond.
Toxigenic Mold Remediation in Ocean Springs
Many homeowners worry about black mold on their property. Black mold is infamously dangerous, leading to health issues as serious as heart conditions. This is because black mold is toxigenic. It releases mycotoxins into the air you breathe. As you inhale these microscopic particles, they build up in your body, eventually creating a state of toxicity.
When it comes to black mold, it's important to call in a professional mold remediation contractor right away. But black mold isn't the only fungus deserving of immediate attention. Most varieties of mold pose some danger to your health. If you discover a growth on your walls or a suspicious smell on your property, call us for a mold inspection.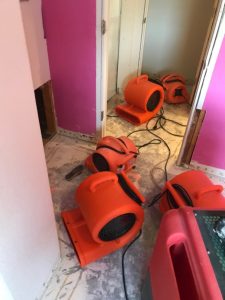 Resist the urge to handle mold removal yourself. Your household cleaners are not effective mold remediation agents. Even if you eliminate the appearance of mold, it takes a certified mold removal professional to completely eradicate an infestation. For one thing, a mold remediation expert knows how to track down hidden colonies. Because mold reproduces through airborne spores, one colony could spawn another growth hidden in your walls. Our mold inspection ensures that mold remediation tackles your entire infestation.
Our mold removal experts use the safest and most effective techniques to get rid of mold without spreading mycotoxins. They also complete mold decontamination with structural dehumidifying. This step prevents a repeat infestation.
For a full recovery from mold, don't depend on do-it-yourself methods. Instead, call 911 Restoration of South Mississippi.
Servicing the cities of Bay Saint Louis, Beaumont, Biloxi, Brooklyn, Carriere, Diamondhead, Diberville, Ellisville, Gautier, Gulfport, Hattiesburg, Kiln, Laurel, Leakesville, Long Beach, Lucedale, Lumberton, Mc Henry, Mc Iain, Moselle, Moss Point, Neely, New Augusta, Ocean Springs, Ovett, Pascagoula, Pass Christian, Pearlington, Perkinston, Petal, Picayune, Poplarville, Purvis, Richton, Saucier, Seminary, Sumrall, Vancleave, Wiggins, and surrounding areas.