Mold Removal in South Mississippi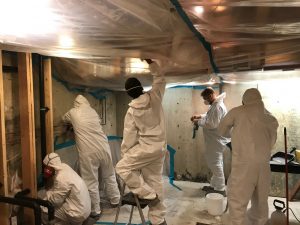 Are you dealing with a mold outbreak in South Mississippi? Get help removing this fungus by contacting 911 Restoration of South Mississippi for professional assistance. Call us 24/7/365 to get help within 45 minutes from IICRC-certified mold removal experts. Let us provide you with a Fresh Start as we:
Perform a comprehensive mold inspection
Quarantine all areas of your property with mold growth
Get rid of mold spores using air filters
Address the underlying cause of mold growth
Clean and disinfect all areas exposed to the fungus
Handle odor removal
Remove discoloration from mold growth
South Mississippi mold cleanup techs know what it takes to bring your property back to better-than-new condition. All mold remediation crews are licensed, bonded, and insured to handle commercial and residential mold decontamination in Hattiesburg.
As a professional mold decontamination company, we are prepared to erase all traces of a fungal infestation. 911 Restoration of South Mississippi also takes care of water damage restoration and flood cleanup. This can be very important if you are dealing with mold, as this fungus generally grows in damp, dark areas.
Let us remove excess moisture from your property to reduce the odds that you will experience a subsequent mold outbreak. Contact us to speak with mold specialists who are ready to provide you with the help you need in Hattiesburg, Laurel, Lucedale, or any surrounding cities.
We can even offer you advice when it comes to dealing with your insurance company. Get advice about reporting your losses to increase the odds that your insurance will cover the costs for mold remediation in South Mississippi.
How Long Does Mold Remediation Take in South Mississippi?
Eradicating mold in your property doesn't have to take a long time. In fact, mold remediation techs in Lucedale can often complete the job within 1-to-5 days. However, mold cleanup may take longer, based upon:
The amount of mold in your property
The type of mold in your property
The causes of mold growth in your property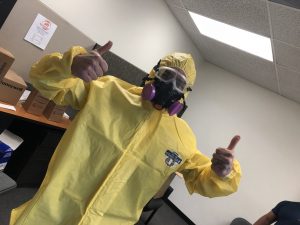 The causes of a mold outbreak must be repaired to complete mold decontamination in South Mississippi. This means that you may require water damage restoration services, including:
Water extraction
Drying and dehumidification
Repairs to leaking or burst pipes
Help to handle a leaking a ceiling
Carpet drying and cleanup
The extent of the water damage and the amount of mold in your property can increase the time it will take to complete mold removal in South Mississippi. Techs can provide you with a more exact estimate after they complete a mold inspection in South Mississippi.
Your mold inspection also allows techs to find mold, no matter where it is hiding in your property. Mold grows in dark and damp places. It thrives under floorboards, behind walls, and in other difficult-to-reach places. Mold damage in these places may pass unnoticed until the professionals begin completing mold removal.
Let us hunt down all traces of mold in your home or business in Hattiesburg. We'll take care of mold remediation, water damage restoration, and the rest of your property restoration needs. Crews base their mold cleanup plan on the results of your mold inspection.
Does Mold Cleanup in South Mississippi Remove All Types of Mold?
There are many different types of mold in the world around us. All of these molds damage property if they are allowed to spread. Some molds also cause health problems if their spores are inhaled. Dangerous forms of mold include:
Allergenic molds. These molds cause serious allergy symptoms in some people. An estimated 20-30% of people experience allergic reactions when exposed to these molds.
Pathogenic molds. This fungus causes disease or infections in some cases. Anyone with a compromised or weak immune system could be impacted by a pathogenic mold. Infants and the elderly are frequently impacted by pathogenic molds.
Toxic molds. Toxic molds actually create dangerous chemicals that can harm anyone exposed to them. Touching a toxic mold or breathing in toxic mold spores causes serious health issues.
Fortunately, mold removal in Hattiesburg eradicates all of these molds. The mold specialists at 911 Restoration of South Mississippi have the equipment and training to get rid of toxic molds, including black mold.
We also have the personal protective gear (PPG) to handle mold decontamination safely in Laurel. Let us quarantine areas of your property that have mold growth to protect your health. Techs bring along plastic sheeting and negative air pressure machines to contain mold and mold spores.
Focus on your future by allowing us to begin mold removal in Laurel, Lucedale, or any other cities nearby. In many cases, your property can be returned to a mold-free condition in under a week.