Different Types of Water Damage & Restoration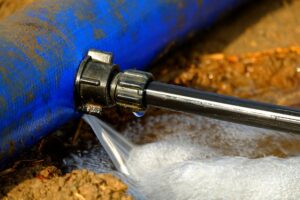 Water damage is one of the most common causes of damage in both residential and commercial structures. It's also one of the most destructive forms of damage because of the consequences water damage can have on both your health and your property. In addition to causing long-term structural damage, water damage can also result in mold formation, which can be hazardous to human health. Because of all these risks, it is vital to act within the first 24-48 hours to mitigate water damage.
Types of Water Damage
According to the Institute of International Cleaning and Restoration Certification (IICRC), there are three categories of water damage. The classifications are based on how contaminated the water responsible for the damage is.
Category 1: Clean Water
This type of water damage is when the water comes from a sanitary source and is fit for human consumption, i.e., it can be inhaled, ingested, and you can come into contact with it without it harming your health. Examples include sprinkler systems, water supply lines, burst pipes, and rainwater.
Category 2: Graywater
Category 2 water damage is when the water is significantly contaminated and can cause sickness and discomfort to human beings if they come in contact with it. This is known as graywater because it contains either biological or chemical matter like detergents, diluted urine, etc. Examples include dishwasher or washing machine overflow, punctured water beds, and toilet bowl overflow.
Category 3: Blackwater
Category 3 water is considered "grossly contaminated" and is known to contain toxic and harmful agents. Examples of blackwater include sewage water, brackish water from streams and rivers, and water contaminated with pesticides and heavy metals.
It should be noted that if Category 1 water damage isn't dealt with in time, further contamination can then escalate to a Category 2 or Category 3 situation.
Water Damage Classes
The IICRC also separates water damage into different classifications based on the level of intrusion.
Class 1 Water Damage
Class 1 water damage takes place when there is a small amount of water spilled onto non-porous materials. When cleaned up, there's very little moisture left which can be evaporated. This type of damage doesn't require much mitigation.
Class 2 Water Damage
Class 2 water damage consists of a significant amount of water being spilled and coming into contact with materials that are medium to high in porosity. This requires more mitigation and a lengthier drying time.
Class 3 Water Damage
When large amounts of water are absorbed by highly porous items, it is considered Class 3 water damage. Since these materials are porous, drying time is extended and water damage restoration is necessary.
Class 4 Water Damage
Class 4 water damage consists of water intrusion to highly porous items but with these trapped by building materials. This is the most time-consuming and expensive form of water damage and requires water damage restoration with professional and specialized equipment.
Water Damage Restoration
Water damage restoration services mitigate water damage and restore residential and commercial properties back to their original condition. Excess water is removed, and the area is fully dried and dehumidified to prevent the formation of mold and mildew.
Assessment
Once you contact water damage restoration services, the first thing they do is thoroughly assess the area to determine the type and extent of water damage. This is an important step since it allows experts to come up with a restoration plan.
Water Removal/Extraction
Pumps and shop vacuums are then used to extract all standing water so that damage can be minimized and the growth of mold and mildew can be prevented.
Removing Objects and Preventing Further Water Damage
Once the water removal stage is complete, the water damage restoration team can help you inspect the damage and decide what to keep and try to salvage and what to get rid of. Highly porous items like carpeting, rugs, and upholstered furniture may or may not be able to be salvaged. Further damage is prevented by checking for mold and the area is examined to ensure that there are no more leaks.
Drying and Dehumidification
Specialized equipment like industrial fans, air movers, and dehumidifiers are used to completely dry the area so that all moisture is removed. In some cases, heaters may also be used to speed up the evaporation process.
Cleaning and Sanitizing
Surfaces and the items salvaged are thoroughly cleaned and sanitized using air scrubbers, fogging equipment, and more. The moisture content may also be measured to ensure that the area has been completely restored.
Call 911 Restoration of South Mississippi for Water Damage Restoration
Whether it's a burst pipe or basement flooding, 911 Restoration of South Mississippi can help with water damage mitigation and restoration. In fact, we're open 24/7 to deal with all kinds of emergency home restoration services, including fire and water damage restoration.
Water damage can wreak havoc on your home or commercial property the longer it is left untreated. To prevent mold formation, it's integral to act fast. We completely understand this and can begin the water damage restoration process in under an hour. You can call the IICRC-certified experts at 911 Restoration at (601) 299-4571 or reach out to us here. We will reach your property within 45 minutes and provide property owners a free visual inspection to gauge the extent of the damage caused.