Ways To Keep Your Home Safe During Winter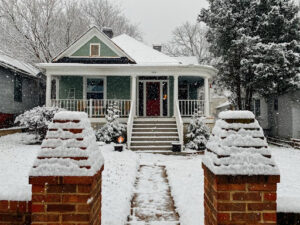 If you've recently moved from a typically warm place to somewhere there's a lot of cold, then you'll be in awe of just how cold it can get. However, it's imperative that while you remain fascinated with the cold, you also prepare for the worst that winter may bring to you. The natural elements can be completely unforgiving, which is why you must take care of yourself during the months approaching winter. You have to keep yourself and your home safe.
You must also see if you can make the changes you need to make before the winter storms arrive. Winter can be a wonderful time full of Christmas miracles. However, if you're not careful in protecting yourself against all the things which may go wrong, you might have to relocate for the holidays. To avoid this and protect your home in the winter, we have compiled a few measures you may take. Read on as we tell you all about them.
Keep Ice Off the Walkway 
If you're expecting people to come around your home, then it's smart for you to remove the ice from your trail. Ice is slippery, and anyone who walks on your walkway can be met with an accident if they're not careful. You can ensure that your walkway is safe by salting your walkway so the ice melts and you don't have to worry about ice freezing in the cold. If you have little children who like playing around the home, you'll have to be extra careful as slipping on ice can cause fractures, and you don't want these.
Keep Your Pipe Insulated
First, you must ensure your home is safe and has running water. If you have an older house, frozen pipes can freeze and then get fractures leading to more intense damage, which you'll have to pay reparations for. You can protect your house by applying antifreeze to your pipes. Furthermore, for you to survive in the winter, you're going to need running water, and thus keeping your pipes insulated will help you with this.
Be Cautious With Space Heaters
Space heaters are an appliance that people buy as they help keep you warm in the winter seasons. However, space heaters can cause things to burn rather easily. The heat from space heaters makes it so that they can set fire to the objects around them. If you're using a space heater, you shouldn't leave it unattended and if you're plugging it in, use a wall socket.
Use Gas Heaters Responsibly
One of the biggest additions to your home in the winter is your gas heater.  You can use a gas heater to keep heating in your vents or even provide you with warm water in the winter months. However, the placement of the gas heater is necessary. You don't want to use a gas heater when you put it in the middle of your home. You should keep it in the attic and attach a Carbon monoxide meter to the wall. The Carbon monoxide meter means that you can regularly monitor the uptick of levels and take the necessary measure if anything goes wrong.
Keep All Flammable Objects Away From Heaters
If you have clothing, fabrics, or paper, it's best to keep them away from heaters. Items of this kind can easily catch on fire and result in a flame. Protecting your home during the winters also means that you're aware of how objects you use can cause extreme damage to your home.
Secure Your Fireplace.
A home's fireplace is one of those intrinsic things which they will be using in the winter. However, you must make sure that none of those embers fall out and harm the equipment and things around your home. You need the warmth, but you don't need any of the damage from the fireplace. Thus, take the proper measures by placing a grate or some protective barrier around the fire so that none of the particles cause any significant harm.  You should also do your best and never leave the fire unattended.
Chimneys Can Also be Flammable
Before you start using a fireplace, make sure nothing in the entirety of the chimney will cause any problems. You must clean the chimney every year before you start using the fireplace. If you don't do this, the soot in the chimney can accumulate over a long time and catch on fire when there are high temperatures around. The soot can become very hazardous, and you should try your best not to cause any further damage to yourself or the home.
Final Thoughts 
There are many ways in which you can take care of your home in the winter. However, it would help if you also remembered that your home is an extension of yourself, and you don't want to cause it any more harm than necessary. The best way to keep your home safe is by being aware of all the ways there could be danger in the walls and trying your best to keep these at bay.
For more information on how to keep your house safe during winter, visit us at www.911restorationsouthernmississippi.com.