How to Fix Floor Laminate After Water Damage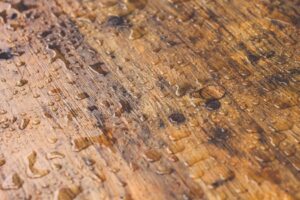 Laminate flooring is one of the easiest ways to give your home or office a luxurious outlook without having to spend hundreds, if not thousands, of dollars on floors. These flooring sheets can last years without needing much maintenance, but water has always been its mortal enemy. Water damage restoration with laminates can get quite tricky at times.
Because of their appealing look, functionality, and durability, laminated floors are gaining popularity for residential and commercial applications. The replacement costs are also very low. However, as the weather gets worse and worse and water levels rise year on year, laminates can get damaged quite easily.
The wood material in the laminate floors absorbs water, expands, and eventually deforms. The top layer can help you withstand occasional spills, provided you clean them immediately. Standing water, however, supersaturates the laminate and breaks down the composition of the material.
Something spilled by your child on the laminate or coffee from employees might not be such an issue, but in the long run, something as small as plumbing leaks, a too-wet-mop, or flooding can lead to a large number of problems.
In this article, we shall discuss the signs of laminate floor damage and what you can do to mitigate water damage on them.
Signs of Water Damage on Laminate Floor
Laminate doesn't show all of its symptoms in one go, especially if it is suffering from water damage or mold. Some of the symptoms of water damage on your laminate include;
Bubbling between the laminate
Splitting corners
Buckling or squeaking floor
Cracking laminate
Excessive cupping at the center
Visible mold (if you see mold on top of the laminate surface, it means the damage is quite extensive, and it is time to call a mold restoration company)
Discoloration of laminates, and more.
Unfortunately, most water damage issues in the laminate cannot be rectified easily; therefore, the laminate may need replacement after water damage. To get them fixed, you will need to work quite a bit. It is a relatively lengthy process, which is why calling water damage restoration companies is much easier.
Having said that, you can fix some of the damage by following the steps we have given below.
How to Fix Floor Laminate After Water Damage
Not every laminate damage is repairable but buckling or squeaking floor, cupping, or bubbling can be managed if identified early on. How much you will need to work on the damaged laminate will also depend upon the size and severity of the damage. If these issues are too extensive, you may not have any option other than replacing the entire floor laminate.
Managing Water Damage
Start by making sure that the source of water damage is contained. All it takes for mold to develop is a drop of water that has been standing there for too long. If you can't find out where the damage is coming from, replacing your entire laminate won't fix your issue.
Find where the water is coming from. Experts at 911 Restoration do that by following the 'veins' of mold or the stream of damp. Sometimes, the damp can't be seen, so you may have to feel for it. There are also instances where you may need special tools to identify the damp. Follow it, find the source of flooding or leakage and fix it.
Once fixed, let the floor dry before you start laminating the floor. Turn on your fans, open your windows, and ensure the leakage or flooding has ended.
Inspect the Locking System
Before you pull out your laminate completely to replace it, check the locking system of the panels to determine which area has been destroyed, which requires your attention, and which ones are fine. When inspecting, check for warping laminate and bubbles underneath them. Be thorough and mark the warped, bubbling, cupped, cracking, or other affected areas with a pencil or market.
This will help you understand how extensive the damage is.
Get the Tools Before You Start
Once you start laminating, time is of the essence. Even a small break of a few hours may mean that you might lose the flow of work and may end up overlapping. These inconsistencies are visible very clearly once the job is done.
Things you will need to replace water-damaged floor laminate include:
Safety glasses
Flooring adhesive
Putty knife
Utility knife
Measuring tape
Cleaning solvent
Pair of pliers
A hammer or mallet
Suction cups if you are planning to solve the cupping
Replacement underlayment material
New laminate planks.
Finding matching laminate can be extremely difficult, especially when you plan on buying just one or two laminate panels.
After that, it is only a simple matter of removing old laminates and replacing them with new ones. If you have suction cups, install one to the laminate, a pulley to the roof, and start pulling so that the laminate is straightened out. Leave the pulley there for a while and dry the laminate up.
That is mostly all there is to fixing slightly water-damaged laminate floors. However, if you have more extensive damage or mold, you will need the help of experts. Let 911 restoration help you find cost-effective water damage restoration and fix your laminate floor. If you need an expert opinion or want an emergency fix, give us a call, and we'll be right over!